I'm not much of a sci-fi fan. When it comes to
Star Wars
, my fandom goes as far as the original movies, when the very concept of
Star Wars
could be called absurd. So while I don't know much about Star Wars, I do know about good books, and
Kevin Hearne
's
Heir to the Jedi
is a
very
good book. I'm sure fans
Star Wars
will find more than enough to be satisfied (it's clear that the novel was written by a serious fan), I enjoyed what I always enjoyed from Hearne: exciting adventures, sharp wit, and an in depth look to a strong character.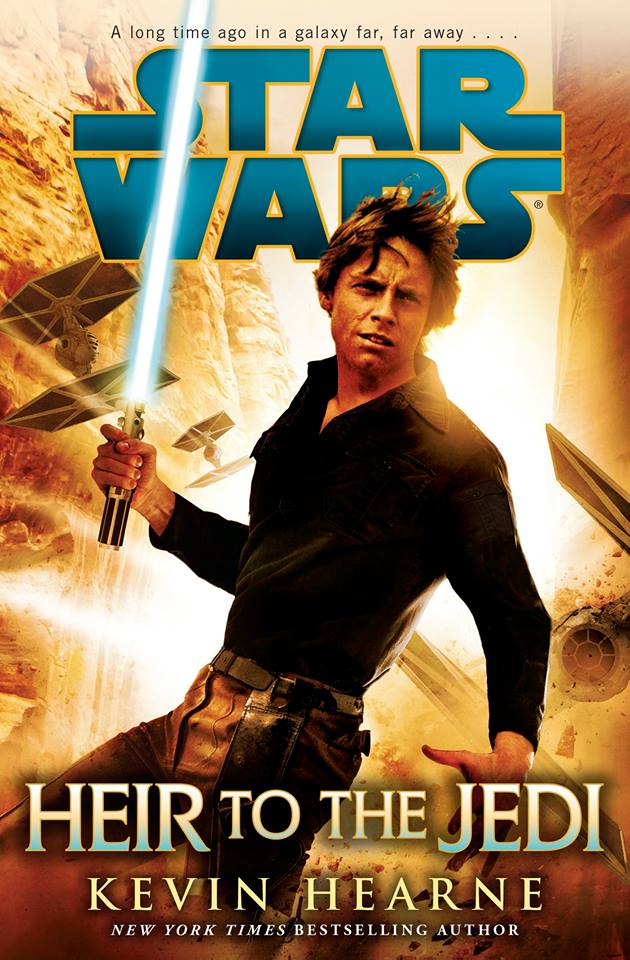 Gotta love strong, action-packed covers!
The Galactic Civil War rages on after the destruction of the Death Star and Luke Skywalker struggles to learn more about the Force without the aid of Obi-Wan Kenobi – or indeed without any aid at all. But the few memories he has of Obi-Wan's instruction point the way to a stronger control of the Force, and he is encouraged to pursue it by a new friend in the Alliance.
When Luke, R2-D2 and his new ally are tasked with liberating a valuable asset from the Empire and delivering her to a safe planet where she can aid the Alliance, their journey across the galaxy is fraught with peril – and opportunities for Luke to discover the mysteries of the Force.
Heir to the Jedi scored points right off the bat with me by taking place in a setting I could understand– a short time after the first film. I'm a die-hard fan of Hearne, but wouldn't have been thrilled to buy thirty books just so I could figure out what the hell was going on in the setting.
This also made the setting fairly easy to follow– Luke and his Alliance ally
Nakari are given a mission to extricate an asset before the Empire gets a hold of her. Luke and his friends had to go through more than a few trials before even finding the asset, so I never felt bored. With everything the group went through, it was a definite adventure from start to finish. The setting changed constantly, adding new environments, beings and danger. There were swamp monsters, space battles, and plenty of chases.
As usual, Hearne's strong point is the characters. It was interesting to see inside Luke's head before he became a Master of the Force and seemed to lose all sense of humor. Oh, don't give me that look, Star Wars fans. As far as the movies are concerned, you know it's true. I was particularly a fan of
Nakari, who helped Luke with the Force in unconventional ways and found her way into his heart. I would have liked more growth from her, and while I'm not happy with how she left the novel, I can add that it's the writers choice and not mine.
To kind of extend on that point, I wasn't very satisfied with the ending at all. The entire novel had a light-hearted adventure take to it, yet the ending took a sharp turn into grim territory, which didn't match the tone for me. I suppose Luke had to start making the transition to the grim, black-clad Jedi at some point, but I was honestly more a fan of him when he was a rebellious teenager who got "cocky."
Maybe I shouldn't speculate too much into that, since I don't know the Star Wars universe well enough to know if
Heir to the Jedi matched the tone of the series. It's not easy to write a first person POV on one of the most famous movie icons of all time, and you won't please everyone. Still, taking that risk is something that deserves to be admired and respected. I always have fun reading Kevin Hearne's novels. He puts a lot of effort, fun, and excitement into his work, and I had a good time reading his latest work. I would definitely recommend this to
Star Wars fans (though you've probably already bought it) and any sci-fi fans looking to read a pretty light, easy-going space adventure. With the way this year is going, December will be here before you know it, so you might as well pick up the book and reacquaint yourself with some of the greatest heroes the galaxy has to offer. Sorry Trekkies, but you haven't won me over. Though if Hearne ever writes a Star Trek book, consider me open to possibilities across the frontier.
Amy