Of all the novel characters I've ever read, there are only two that I've desperately wished I could be. One is Daenerys Targaryen (because who doesn't want to have three dragons?), and the other is Gin Blanco.
To those of you who are asking, 'who's that?', to you I say:
'You need to read more urban fantasy'
'Only one of the most badass female leads in urban fantasy and the best assassin ever.' ... Okay, okay, I'll explain!
Gin Blanco is the most famous assassin living in Ashland, a nasty city filled with giants, dwarves, vampires, and elementals aka people who are gifted in controlling a specific element. In Gin's case, she can control Stone and Ice magic, which is extremely helpful since people are constantly out to kill her and Gin has an uncontrollable need to help people and kick bad guy ass. And damn, does she
ever.
What I like most about Gin is that while she's got a good heart at the end of every bloody day, she's no angel. If you threaten someone she loves, she will literally cut you to pieces. You'll never see her coming as per her namesake, the Spider, because she lies in wait for the perfect time to strike.
I'm bringing up the
Elemental Assassin
series by
Jennifer Estep
because I just finished the latest novel,
The Spider.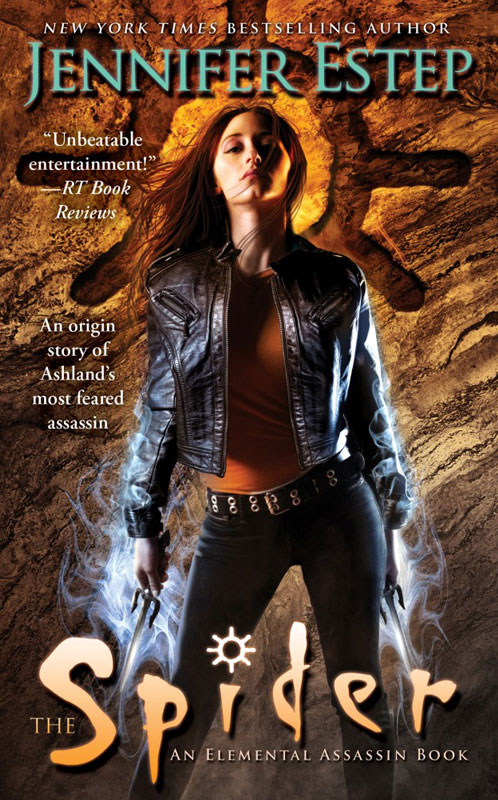 Kick ass prequel cover
It's everything I wanted in a Gin Blanco story: intense action scenes, intrigue, magic, mayhem, moral and physical struggle, and loved characters. Fans of the series have already read this and can probably agree with me when I say that some of the best parts were teases at characters who would become a major part in Gin's life or hinted scenarios: i.e.: Finn and Bria, Rosalyn, Xavier, and of course, Owen... Yeah, okay, I admit it, that's another reason why I would want to be Gin Blanco. Her boyfriend is hot.
But one of the best parts I found in the book was that even though Gin survived (this isn't a spoiler, people– this is the prequel in a series that already has nine books, two novellas, and two more works coming out in the next few months), I really got a sense of danger in some situations. I'd be telling myself: 'Okay, she's Gin, she'll get out of this, don't panic, she won't die... Oh man, I need to find out if she'll be okay!!" I just couldn't put my Kobo down. I loved watching Gin grow, seeing how she had been as an assassin before versus the one I'm most familiar with now. I waited to read the latest story, and was not let down.
Books in the series so far
I'm not saying much about the book itself, because I want you to go read it and become an Estep fan. Seriously, what are you waiting for? She's incredible at sensory detail. When a character is in pain or feeling something, Estep describes it in such a way that has you feeling it too.
She's been a huge inspiration to me in that department, because I believe that sensory detail is crucial to memorable story-telling. It always gets me more involved and keeps my imagination soaring. And really, what more can you ask for in a good book?
There's a lot to love about Jennifer Estep, fantastic writing aside. She's hugely devoted to her fanbase, always replying to questions/comments on her
Twitter
and
Facebook
. On her website, she offers free short stories and even free recipes. Oh, that's another thing I should mention: I don't recommend reading her books if you're hungry and not close to food, because she writes up meals that will have you salivating. Sensory detail, remember?
The awesome Estep bundle I got for a blog contest!
At this point in time, I'm just beginning the second major series by Jennifer Estep,
The Mythos Academy
series. More on that next week as I progress through. For now, if you're looking for a series that's fun and totally engaging... Well, it's pretty obvious what I recommend.
Amy