High school is an interesting experience for everyone. All the class pressure, trying to fit in, raging hormones... It can take its toll. Now, imagine your high school life, with a bunch of teenagers descended from warriors. Yup,
Jennifer Estep
's second major series,
Mythos Academy
, has a high school filled with cliques of Valkyries, Amazons, Vikings, Romans, Spartans, Samurai, Ninjas, and Celts. Only one person doesn't belong in this mix, and that's the main character, a seventeen year old Gypsy named Gwen Frost. She's not one of the 'warrior whiz kids,' but she's not without her powers. Gwen's gift is psychometry, the ability to touch an object and know all its secrets. Which could be considered a blessing and a curse when the supernatural minions of an evil god are trying to kill you.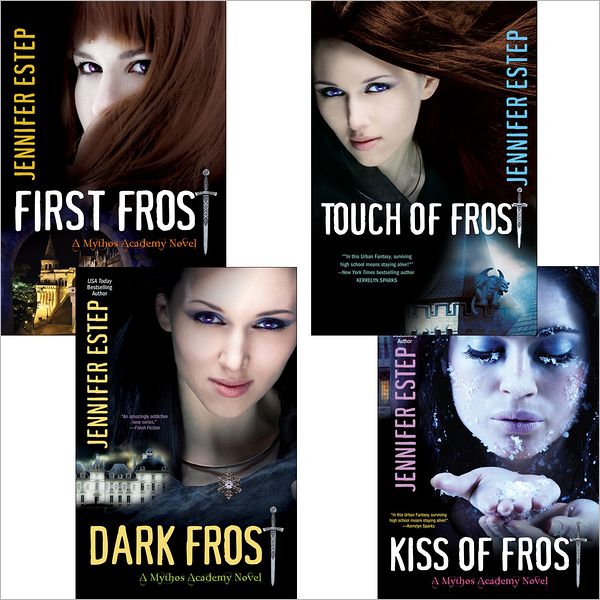 Who doesn't love bundle deals?
I finished
First Frost
and
Touch of Frost
a couple days ago and am about halfway through
Kiss of Frost
. I love ancient warriors and you all know of my addiction to Greek mythology from one of my
previous posts
. Since I've plowed through one and a half books and the novella prequel, I'll comment on the series as I find it so far.
I love it. I really, really love it, and not just because I'm a fan of Estep's work. The mindset of the school is very interesting, i.e.: how the kids embrace their destines. Gwen isn't exactly warrior material with her quirky, geeky, awkward nature, but she has heart, spirit, and an unstoppably curious streak that gets her into more than a little trouble. She's a realistic teenager with faults and self-confidence issues. What I like most about Gwen is that she cares, even about the mean girls who try to put her down. Even for Logan, the devastatingly gorgeous and secretive Spartan who can't decide if he wants to turn her away or bring her closer.
As always, Estep's imagination, characters, descriptions, and sensory detail draw in the reader and make you eager to get to the next page. The final book,
Killer Frost
, comes out on Tuesday, and I can't be more excited to read it. This series is fun, exciting, and while I'm kinda sad to know it's at its end, I'm dying to see how everything winds down. A highly recommended series for anyone who likes any kind of mythology, warriors, and a love for Big Bad Secrets.
Amy