You know that saying about how things get better with time? It absolutely applies to books. I've been reading the
Elemental Assassin
series by
Jennifer Estep
for a while now, and it really does keep getting better and better. The latest installment,
Spider's Trap
is one of the best in the series, which is definitely saying something considering how popular main character Gin Blanco is among urban fantasy blogs and review sites. But more on that later. What you need to know right now is that this series is amazing. One of the greatest things about it (and Estep's writing in general) is that you never really know what she's going to throw at you until you're engaged. Sure, I was expecting some familiar trends (Estep clearly knows what her fans desire from the series, after all), but there were some curve balls I didn't expect that made for one hell of a ride. Since this is book 13 in the
Elemental Assassin
series, I suppose I shouldn't have to state the obvious
spoilers below
. Unlike
last week's review of Alive
, I will be going into them so if you don't want to know anything about the series or this particular book, take this piece of advice:
Read this series.
Seriously. Do it now. You will not regret it.
Spoilers start now.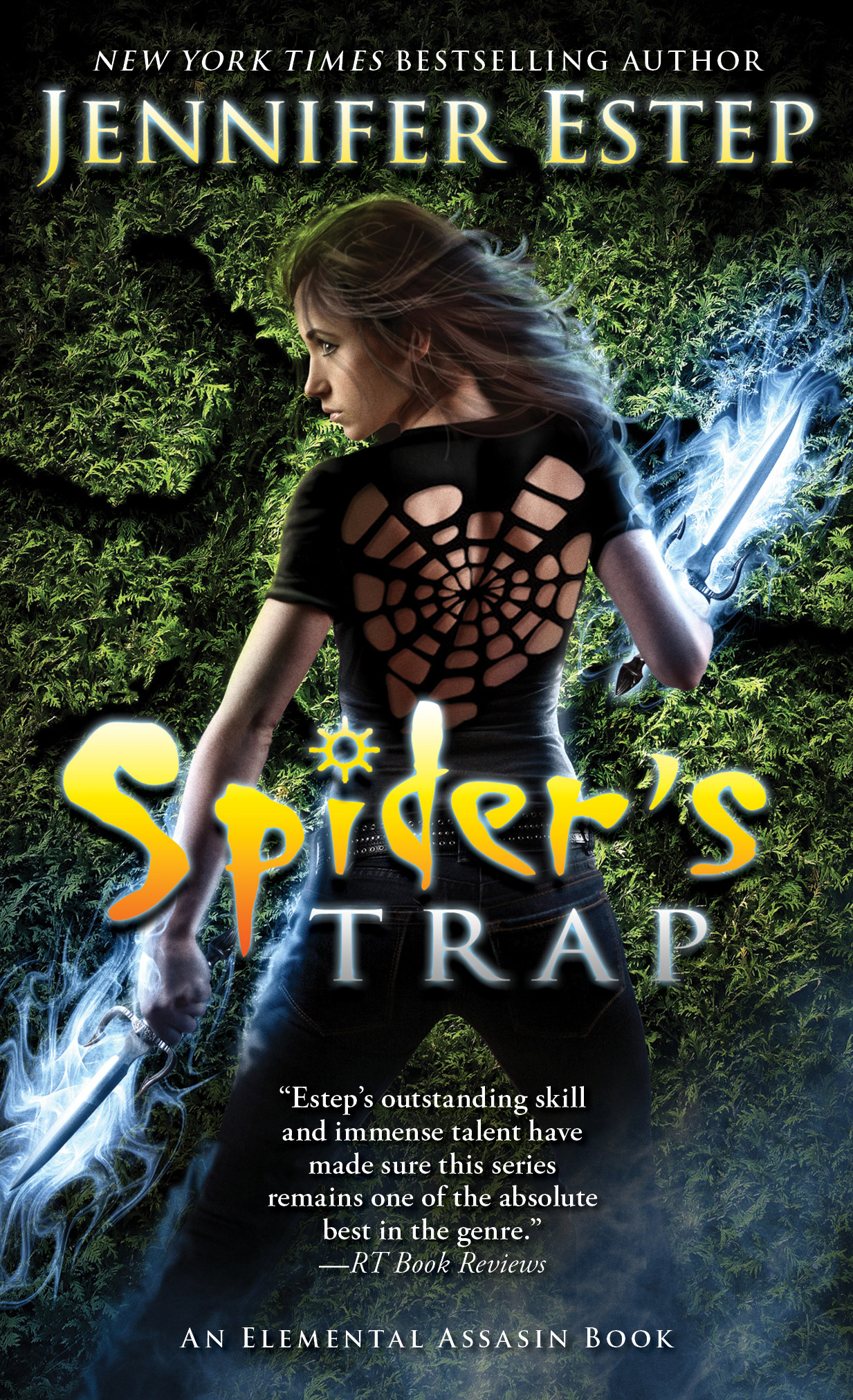 The covers for this series keep getting better and better!
Keep your friends close but your enemies within stabbing distance.
One important lesson I've learned in the assassination business is that to be the best you have to roll with the punches. Now that I'm queen of Ashland's underworld—by default, not by choice—a lot more punches are being thrown my way. But I suppose that's the price of victory for taking down some of the underworld's top dogs. Good thing I have my Ice and Stone magic to help me survive my volatile new position. Just when I think things are finally settling down, someone tries to murder me during a hush-hush underworld meeting. But the real surprise is how strangely familiar my shadowy assailant seems to be.
My job is to maintain order among killers, crooks, and thieves, and soon I'm embroiled in a bloody game where the ability to keep secrets could be the greatest superpower of all. My enemies have all sharpened their knives and laid their traps, waiting for me to fall. But this Spider weaves her own webs of death…
I was thrown for a loop in
Black Widow
, when ass-kicking heroine Gin Blanco became queen of the underworld– the last thing she wants to be. Her disdain for the position is obvious from the first chapter where she endures a truly agonizing (and unintentionally hilarious) dispute between two mob bosses and a laundromat. Seriously. But because this is a Gin Blanco book, someone immediately tries to kill her. Or so she thinks. The plot that follows reveals a deep secret into Gin's past, one where she might not be the target after all. But that doesn't mean she– and the people she loves– won't be caught in the crossfire. As usual, the story is excellent. Really, really excellent. There is no such thing as a dull moment in an
Elemental Assassin
book. Think Gin can't get into trouble at a tea party? Think again!
Everything I love about the series is out in full force. Gin's friends return with their trademark personalities (and you better believe that Owen is as sexy as ever), though I was a huge fan of the new characters Gin encounters and decides to help. They're tough and fierce, though they have nothing on our leading lady. There's no question that Gin is the foundation that holds the series in place. I know that seems kind of obvious, but she is
amazing
. If there is a tougher, smarter, deadlier female lead in urban fantasy, I sure as hell haven't encountered her yet. Gin played a huge role in inspiring my main character
Constance from my Cursed series
, and if you've read either novel, you can understand why. Everyone likes strong characters who know how to kick ass and take names. But they can't be flawless. They can't walk into a room full of bad guys and come out without a scratch. Tension comes from your heroes facing an enemy and truly not knowing how they'll manage to escape with their head attached. Does Gin get beaten down? Unfortunately, yes. But when she rises back up, she's virtually unstoppable.
Which leads me to the next best thing about the
Elemental Assassin
books– the fight scenes. I don't know how Jennifer Estep's mind works when she writes these fights, but I hope it doesn't stop. There have been some wild brawls in the series (I still cringe at the one in
Poison Promise
), but this one ranks on one of the most inventive and nail-biting. When the villain's power was revealed, it was clear that Gin would have her hands full, but even I couldn't have anticipated the way it would go.
I've been waiting months for Gin's next adventure, and as usual, Estep did not disappoint.
Spider's Trap
was an exciting roller coaster from start to finish, filled with memorable and loveable, characters, gritty action, and a sassy heroine who takes no sh*t and doesn't need anyone to fight her battles for her. I'm not sure how many more
Elemental Assassin
books there will be (it's been on a long stretch and I know the series won't go on forever), but I know they will keep blowing my mind, especially after the teaser left at the last one. If you haven't read one of Gin's adventures, you need to start yesterday. There is something for pretty much anyone in here, and you will not leave disappointed.
Amy