Every time one of my favorite authors comes out with a new series, I get insanely excited. I wonder what they'll do different, how they'll wow me, and how deeply invested I'll be in the new series as compared to the previous ones. With
Cold Burn of Magic
, the first entry in
Jennifer Estep
's newest YA series,
Black Blade
, I can say that she knocked out of the park. I've been excited about this series for a long time, the concept being fantastic and unique, and I had high expectations. Not only were those expectations met, they were exceeded at an astronomical level. I sped through the read because I could not put it down. Working the Real Job was agonizing because almost all I could think about was what would happen next in the story. It was exciting, inventive, filled with loveable characters and compelling drama/intrigue. And absolute must for anyone with eyes.
Minor spoilers will follow
.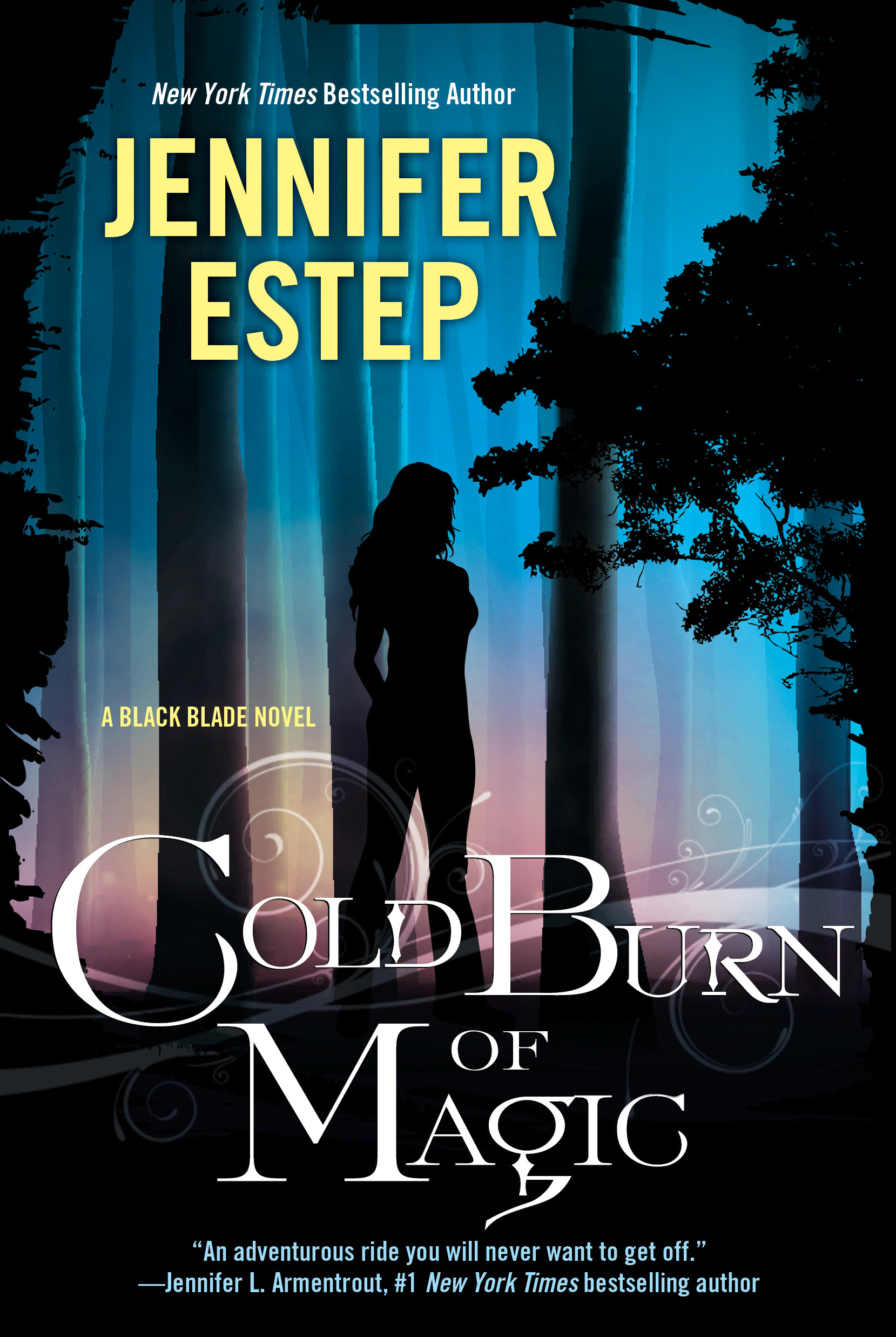 Well designed cover, completely unique and memorable!
THERE BE MONSTERS HERE…
It's not as great as you'd think, living in a tourist town that's known as "the most magical place in America." Same boring high school, just twice as many monsters under the bridges and rival Families killing each other for power.
I try to keep out of it. I've got my mom's bloodiron sword and my slightly illegal home in the basement of the municipal library. And a couple of Talents I try to keep quiet, including very light fingers and a way with a lock pick.
But then some nasty characters bring their Family feud into my friend's pawn shop, and I have to make a call—get involved, or watch a cute guy die because I didn't. I guess I made the wrong choice, because now I'm stuck putting everything on the line for Devon Sinclair. My mom was murdered because of the Families, and it looks like I'm going to end up just like her…
When Talented thief Lila Merriweather halts an assassination attempt, the last thing she suspects are the repercussions– becoming a bodyguard for the Sinclair Family's son, guilt-addled Devon. Someone is out to kill him, and it's up to Lila and her new "friends" to find out why and stop them. Considering these enemies are powerful and seem to be everywhere at once, Lila knows she's getting in way over her head, but truthfully she has no idea how far down the rabbit-hole she's about to go.
The story is great. Fast paced and interesting, as is the case with all of Estep's novels, with an equal balance of action, backstory, drama, and character development. The world of Cloudburst Falls is compelling and easy to imagine. Especially when you consider that the town is run by the vicious Families, mobsters who linger behind the scenes looking for ways to off one another.
The Talents/magic are unique and rare for most YA novels, but Lila's are almost completely unique to the genre as far as I'm concerned. One of her gifts it soulsight, which allows her to look into a person and sense what they're feeling and she has powerful "sight" to make her far more observant than your average mortal. But the real gift that Lila has, and that she'll keep as secret as possible lest it be literally ripped out of her, is her transference magic– borrowing other magic to make herself stronger. Basically this means that if someone with Strength magic punches Lila, she punches them back like the Hulk. I
love
Lila and don't like her getting hurt, but I have to say that when she does take the pain, it's
awesome
to watch her deliver it back tenfold.
That might make it seem like she's invincible in that mode, but that doesn't mean she's safe, and Estep is a master at making readers believe that even the most badass heroine's might not make it out of their current predicament. I was biting my nails during the last couple chapters when Lila found herself in a truly brutal situation. I was so deeply invested and involved that I couldn't step back and tell myself that she would be okay.
As with all of Estep's novels, the strength and highlight for me were the characters. Each of them are unique and memorable, from the clever pawn shop broker Mo to smooth-talking ladie's man Felix. I absolutely love the dimension to them, especially when elements of
Romeo and Juliet
style romances are involved, but my two favorite characters are without question Devon and Lila. Devon is a great, complex character with a secret and unstoppable desire to prove himself, to take on the world and protect those closest to them. It's stated in the novel a few times and utterly true– everyone just loves Devon. He's a white knight that isn't afraid to get his armor dirty for the sake of others.
Adore him as I do, Lila is the star here. I'm a huge fan of
Gin Blanco
, the reigning badass in Estep's work and in my opinion, the best female character in all of urban fantasy, but Lila's giving her some stiff competition. There are some parallels between the two, so maybe that's why I'm a bit biased, but how could I not? A strong young woman who can take care of herself, knows how to fight and take the bad guys apart, who's stubborn and yearning and even a little guarded when it comes to affection, who knows what she has to do and will do even if she doesn't readily agree, who's not afraid of authority and can dish out whatever she takes three times over... Oh yeah.
Definitely
my kind of lead character.
The action is absolutely stellar, and the monsters lurking in the shadows are begging for more attention from the series. I want to see more of them as I do the tension and drama unfolding with the Sinclair Family and their ruthless enemies, the Draconi's. The next book doesn't come out until October, and believe me when I say I'm heartsick and counting down the days for that.
I said earlier that I would recommend this book to anyone who with eyes, and I meant it. Even if you don't like fantasy or YA, give this book a read. It's fun, exciting, daring, and unforgettable. Unquestionably one of my favorite YA novels and will definitely be on the list of best books I've read this year.
Do not
miss out on it.
Amy